USA Reopens for Business; Coffee and Cupcake Award Winners Unite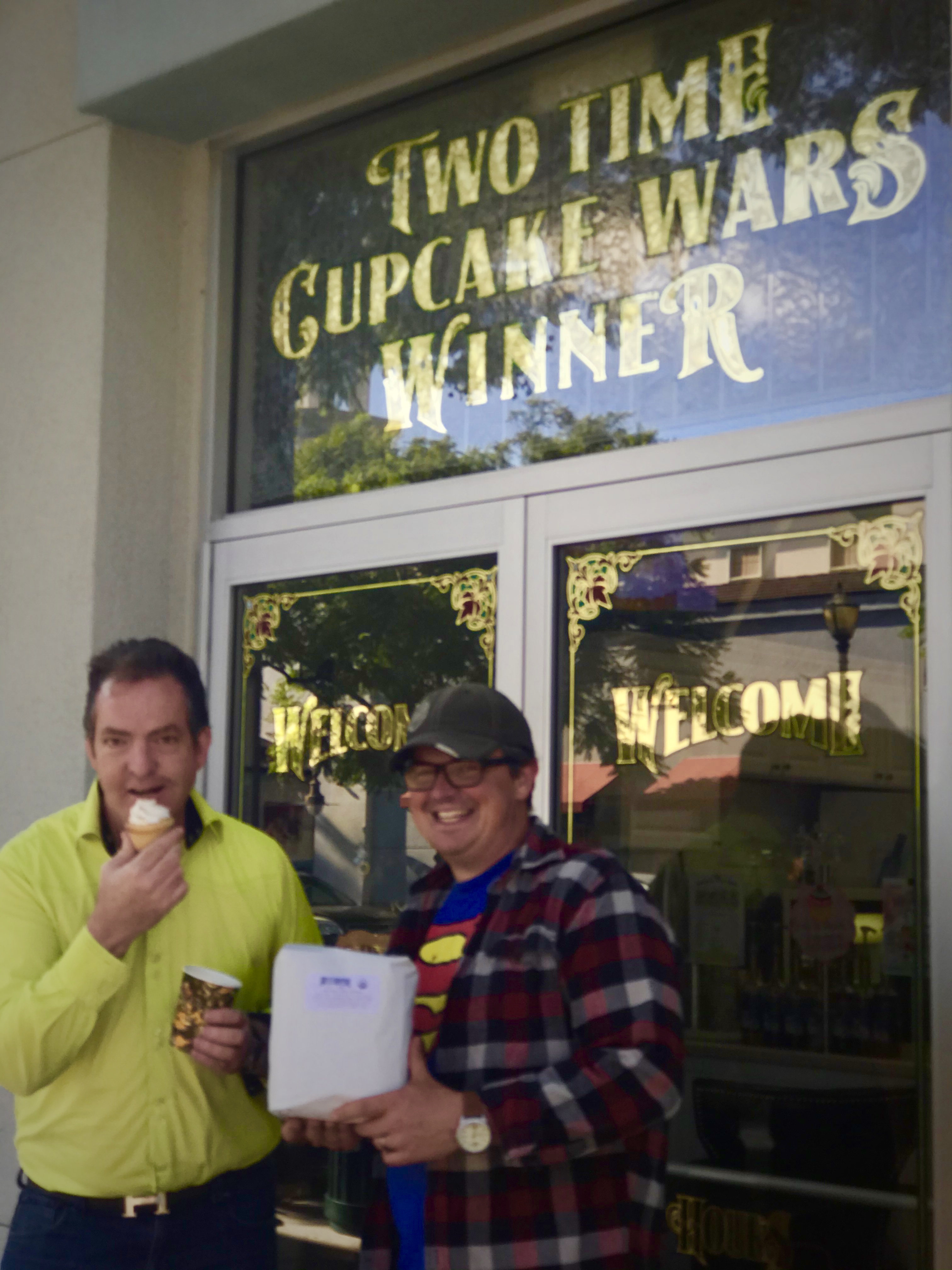 Winners together. CEO Best Roast Coffee enjoys a winning cupcake, as he arrives in Vista California. Pictured with twice winner of cupcakes war Don Hein showing the bag of award winning Organic Best Roast Coffee.
As the economy is re-opening it's the best of both worlds, Cupcakes and Specialty organic coffee come together. Separating the two treats is not in their complementary nature. A partnership between two-time Food Network "Cupcake Wars" TV show winners Little Cakes and Innovative coffee company Best Roast Coffee, serving up delicious treats and award-winning Organic coffee side-by-side at Gelson's Supermarket and independent locations. A sweet and high energy deal for consumers.
CALIFORNIA – It's time to eat cake and drink coffee again. Something most love the idea of doing. On the subject of love, during COVID-19, Coffee expert, CEO and two time author Jason Roe recognized love, and the acts of love for one another around COVID-19. He wrote a book about it, published in paper back and eBook in over 50 countries, link here to COVID-19 The Love Story. "Be The Rainbow in Someone else's Sky" on the cover a picture of his 5-year-old Yorkshire terrier. By teaming up, for the love of something we are one says Roe. Two already loved products are cupcakes and coffee, it seems a synergistic union to unite with twice winner of Cup Cake wars to deliver the Best Roast Coffee and Best Cupcakes to the customers attending Gelsons' Del Mar. The little Cakes Kitchen treats, can be found at several locations including inside several Gelson's.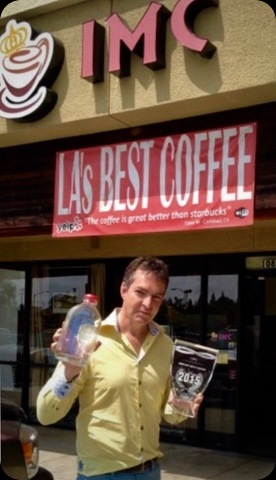 CEO Best Roast Coffee, Jason Roe outside his Los Angeles Coffee shop. Twice winner of Los Angeles Best Coffee. The shop featured in the Hollywood Movie "A Kind of Magic".
"People come to Little Cakes Kitchen because they want the best cupcakes. To visit the two times winner of Cupcake wars suggests that customer likes the best. In that case, they deserve to have the best roast coffee too," says Jason Roe. "I loved watching Little Cakes success on 'Cupcake Wars' says Roe. I could tell from Don and Becky's positive spirit, their attention to detail that they would be perfect for a business partnership." Don agrees, adding, "When we were told about Best Roast Coffee we tried it, and yes, we were impressed!" The flavor and blend of beans from various regions is better than any coffee I had tried not all coffees are created equal. It is so smooth and moreish, just like our cupcakes — so putting the two together was an easy decision."
Roe is known for his ability to view the world through a different lens. He has written two Non Fiction books. Mentored UCL London top 5 university of the world in real life company formations. In 2020 Mr Roe, was given the direct email to Executive Office of the President, and he contributed to President Donald Trump's COVID-19 task force with his suggestion of magnetized water as a way to magnetized human DNA and cells to the reverse polarity of the virus. The illustration of how all human cells and DNA has its own magnetic field is communicated through science in MR Roe's 2016 book "The Force is in You". Recently, Roe became certified in disruptive strategy when he studied under professor Clayton Christensen at Harvard, as Roe says "For something to do". We must always remain green and continue to learn and grow says Roe. Professor Clayton Christensen was a pioneer in disruption and innovation. A genius who's teaching I would recommend that all CEOs learn. To view the business through the lens of Harvard disruptive strategy, serves to inspire thinking and that can lead to new innovation.
Cupcake wars and Best Roast Coffee now in Gelson's SupermarketDel Mar. Gelson's is part of a 110 Billion dollar group too says Roe. The group owns many more retail brands in the USA as well as other countries. Roe says "my vision is to share new innovation in coffee with their larger retail outlets as a Group. We have USA innovation in coffee roasting today that results in 5 times less fuel use. Such a process can reduce the greenhouse emissions by 79% compared with drum roasting. I support made in the USA, and USA innovation because USA is where we live. We should build in our own backyard says Roe. The great mobilization of love and support for each other we just witnessed in the 2020 events is the spirit that makes America great.
Media Contact
Company Name: Millennial News Feed
Contact Person: Korey Andersen
Email: Send Email
Country: United States
Website: http://www.littlecakeskitchen.com