"How to Kill a Piano" is a fictional coming-of-age black comedy-drama podcast, narrated by George Tait in an amazing story-telling style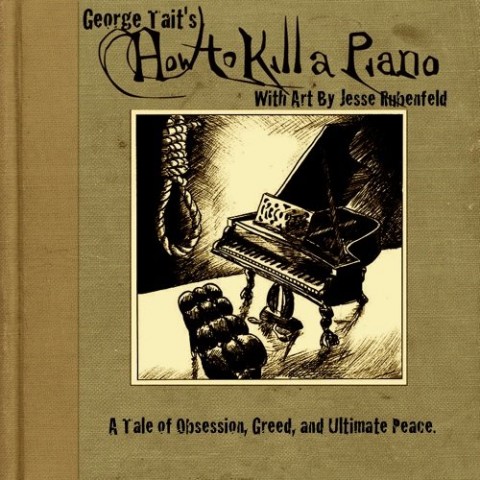 With his long love for magic, side-shows, stunts, and theatre, George Tait wrote a combination of comedy and drama in June 2002 and titled it as "How to Kill a Piano". George Tait is a multifaceted artist who wrote, directed, produced, and starred in this show himself. He further decided to take this story to the next level in front of a wider audience with his podcast "How to Kill a Piano".
"How to Kill a Piano" is a tale of family, love, demons, mystery, and music, served in George Tait's unmatched and intriguing story-telling style and his piano that keeps the listeners hooked to the entire episode.
"A baby grand piano, dating over one hundred years, is delivered by the devil's henchmen to the basement of Charlie Seraphic's home. Charlie becomes possessed by the instrumental beast. An orphan, George, seems to be the only one who might be able to save him from the evil musical force dwelling below the floorboards", states George Tait, briefing about the plot and theme of the podcast "How to Kill a Piano".
The podcast revolves around the protagonists, a boy named George and his uncle Charlie, who will take you to another world filled with magic and mysteries, ups and downs, twists and turns. It will make your head spin with wonder, but at the same time will draw you in and leave you wanting for the next chapter.
"Wonderful! A truly mysterious, whimsical, and thought-provoking opening chapter to this epic story! Thank you so much for taking the time to make this podcast George! I loved hearing your voice reading this", review by David Martin, on "How to Kill a Piano".
As for now, there are 14 episodes to this podcast, and each episode is divided into different chapters. The first episode went on air on February 24, 2020, which is like an introduction to this podcast. In each episode, the host George Tait unveils new twists in the story and make the audience leave in awe of the podcast.
This is a fun and unique podcast that is already loved by the listeners due to its rawness.
Listen to the podcast "How to Kill a Piano" on this LINK.
Media Contact
Company Name: Mind Tapped Productions
Contact Person: George Tait
Email: Send Email
Country: United States
Website: www.HowtoKillaPiano.com