Sono-Tek Posts Record Net Income For FY 2020; Demand For Highly Specialized Ultrasonic Coatings Spikes
Sono-Tek is proving that even small cap companies can take advantage of large market opportunities. Sono-Tek Corporation (OTCQX: SOTK), a New York-based company, has become a significant industry player by developing a world-class alternative to traditional coating methods. In fact, the company is challenging the large-caps as a new global leader in the design and manufacturing of ultrasonic micron particle coating systems for depositing precise, thin-film coatings to protect or strengthen surfaces.
In May, the company posted a record net income of $1.1 million on sales of $15.3 million for its FY2020, ended February 28,2020. On that news, shares moved higher by roughly 12% despite a weak market trading against COVID-19 concerns. Since then, shares have settled between $2.25 and $2.50, and contribute to a market cap currently sitting at roughly $35 million. Both the quarter and year were attractive on multiple financial perspectives, with FY Q4 revenue increasing by 88% over the same period of last fiscal year alongside a strengthening in gross margins to 48%.
As the market looks ahead for clues to the company's growth for the remainder of 2020, Sono-Tek may have provided the guidance needed. In its filing, the company stated that demand for its highly specialized products in both the electronics and medical markets helped secure a record-setting year-end backlog of $3.5 million. That demand is 16% higher over the prior year. Also, management said they expect that its product line expansion, coupled with strong pricing power, will generate an expected increase to its Q1 FY2021 sales of roughly 21% with a measurable conversion of sales to operating income and earnings.
These results could offer investors a compelling value opportunity at current share price levels. And despite gaining roughly 5% in value after the report, the forecast of an expected 21% increase in Q1 FY2021 sales may not be priced into the stock. Sherwin Williams Company (NYSE: SHW), an industrial coatings company, also guided toward higher growth in 2020 and 2021. That sentiment can be bullish for Sono-Tek as well.
Video Link: https://www.youtube.com/embed/UJC_ly3T2qQ
Sono-Tek Growth Comes As International Presence Increases
Sono-Tek's growth comes from a diversified and international market presence. In particular, sales from semiconductor and medical device manufacturing were a major contributing factor to the company's strong year. Also noteworthy is that despite the challenging few months in the global economy from pandemic-related concerns, Sono-Tek highlighted that they are benefiting from global demand growth for its products, with European and Asian geographies increasing their revenue contributions alongside strong U.S. sales.
From a public market perspective, creating shareholder value is the golden rule. Sono-Tek has proved its ability to do so by posting impressive results for its fiscal year 2020. The company reported revenue growth of more than 32%, with those increases coming from more than half a dozen distinct market segments, and with at least 50% coming from outside the United States.
The company's success is a result of its unique ability to adapt to fast-changing market demands with relevant products. The company's original focus was on supplying fluxing equipment to printed circuit board manufacturers in the U.S. and Mexico. While that segment of its business remains a consistent contributor, the company expanded into other potentially lucrative global product markets. Developing sectors for the company's specialized products include medical devices, semiconductors, clean energy (fuel cells and solar energy), coatings for handheld electronics screens, and industrial applications like glass, food, textiles.
Sono-Tek's inherent ability to quickly penetrate new market opportunities should be considered a part of the overall value proposition. That ability to seize opportunity appears to come from a well-developed corporate strategy.
Moreover, the company can execute its growth by driving innovation from eight laboratory testing facilities worldwide. Each is an instrumental tool to demonstrate and assist in applying its coating systems for current and new customers. They can also help to develop new markets and products as they emerge. With support facilities located in the United States, Germany, China, and Korea, the company has a significantly increased ability to extend its customer base, which is likely to translate into additional sales.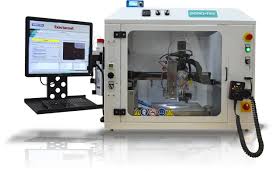 Sono-Tek's Innovation Is Key Ingredient To Success
Sono-Tek gave investors a clue as to why they expect to remain successful by explaining its strategy for value creation. First, the company provides customers with unique application expertise and knowledge. Second, it continually and consistently develops new applications to drive sales and marketing team knowledge. Third, it is continuing to build a highly-technical long-term global distribution network that can make, fill, and profit from industry demand. Striking a balance from all three is producing positive results.
The company recently showcased that its growth can come in different sizes. Its product diversity and revenue-generating capacity was on display with the introduction of its newest robotic coating platform, a system that combines 6-axis robotic capabilities with ultrasonic dispensing expertise. The first order for the device shipped in February and is valued at $1.6 million. This represented the largest single order in Sono-Tek's almost 40-year history. Other highly customized, multi-axis coating systems are expected to bring between $100K to$600K for each unit sold. The anticipation of additional units sold in the same category can have a tremendous impact on revenue growth. It can also contribute to bottom-line growth from healthy margins.
Indeed, those deliverables are a product of the company's commitment to innovation. And it's a practice that has been in place for decades. Since 1975, Sono-Tek has built a strong global brand and reputation based on its high-quality products and overall reliability. Its application engineers also add to the success by providing highly specialized capabilities and the proprietary know-how of manufacturing and engineering design processes.
Moreover, the increase in the company's global presence is likely to usher in new opportunities. Some are expected, and others can be generated from worldwide events. Indeed, the COVID-19 pandemic caused a shake-up to the markets. But it also created opportunities. For Sono-Tek, an opportunity for their products was created because of the increased demand for rapid medical blood testing due to coronavirus. Those kits have made the company a potential key contributor in producing equipment to help meet that new product demand. That's just one example, and others will likely emerge. While Sono-Tek's guidance offers a glimpse into the next quarter or two, there is even more potential for opportunities in markets that have not even been created yet.
Positioned For Breakout 2020 As Global Industrial Demand Jumps
Sono-Tek spoke at the Virtual Summer Investor Summit on June 9th, 2020 where investors heard an optimistic tone from management. The most important message came when the company explained what it plans to do next, which is seizing new market opportunities with innovative, compelling products. The overall goal remains to continue the expansion of its addressable market.
Investors would be wise to pay attention. History shows that when Sono-Tek takes a course of action, the result is positive. Healthy product margins, creating innovative products, remaining profitable, and maintaining corporate financial strength head the list of accomplishments.
Although earnings are considered old news, they still provide the most current picture of the company's financial health. In this case, the most current results show that Sono-Tek is accelerating growth strategies, strengthening its customer base, and extending its product line to include higher value machinery that brings higher gross margins. Combine that with their record year-end backlog of $3.5 million and a projected revenue increase of approximately 21% for the first quarter, the results for the period ending May 31st, 2020 can be powerful.
Sono-Tek already addressed that the company is well-positioned to offset a potential earnings impact from the COVID-19 disruption by bringing innovative new products and applications to market that may provide substantial revenue opportunities from emerging global demands. Thus, when the global economy begins to normalize, which appears to be happening already, the remainder of 2020 can be a massive year for the company as pent-up demand for products and resurgence of industrial demand return.
Notably, though, the investment thesis for Sono-Tek comes with its own set of inherent and intrinsic values.
The company has a strong balance sheet. It can innovate and direct markets. And, it benefits from global demand for its products. Thus, with cash and shareholder equity rising, while debt is small and declining, the case for believing in a breakout year opportunity for Sono-Tek is compelling. The additional fact that they are "net income" positive reinforces that bullish sentiment.
Disclaimer
This communication was produced by PCG Digital Holdings, LLC, and affiliate of PCG Advisory Inc., (together "PCG"). PCG is an integrated investor relations, communications and strategic advisory firm. The information contained on this may be 'Paid Advertising' for purposes of Section 17(b) of the Securities Act of 1933, as amended (together with the rules and regulations there under, the "Securities Act"). PCG may be compensated by respective clients for publicizing information relating to its client's securities. For more information in terms of compensation received for services provided by PCG, see the pertinent advertising materials relating to the respective client. By accessing this Site and any pages thereof, you agree to be bound by the Terms of Use and Privacy Policy.
PCG is not a registered or licensed broker, dealer, broker-dealer, investment adviser nor investment manager, nor does PCG engage in any activities that would require such registrations. PCG does not provide investment advice, endorsement, analysis or recommendations with respect to any securities, and its services to or statements about its clients should never be construed as any endorsement of or opinion about any security of any client. No information contained in this communication constitutes an offer to sell, a solicitation of an offer to buy, or a recommendation of any security or any other similar product or service regardless of whether such security, product, or service is referenced in this communication. Further, nothing in this communication is intended to provide tax, legal, or investment advice and nothing in this communication should be construed as a recommendation to buy, sell or hold any investment or security or to engage in any investment strategy or transaction. For full disclaimers, including compensation received for professional services, please click here.
Media Contact
Company Name: PCG Digital Holdings
Contact Person: Kenny Ellis
Email: Send Email
City: New York
State: New York
Country: United States
Website: https://pcgadvisory.com/