Author And Former Olympic Athlete, Anne Mackie Morelli, Launches Book On Loss, Grief, And Suffering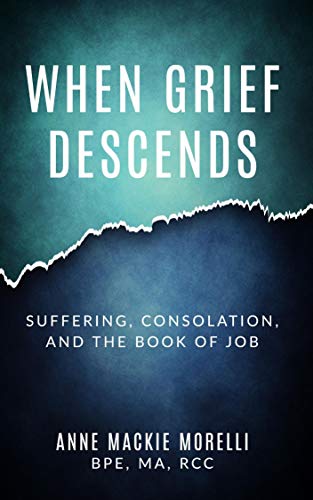 The author helps the reader to understand themselves and overcome life's difficult challenges. It's a brilliant interpretation of the book of Job, combined with the author's experience, and the wisdom in the word of God
Phoenix, AZ – We live in a world of trials, tribulations, and challenges, where many people have to suffer for several reasons. To overcome the time of grief, one needs to tap into the vast knowledge that provides all the essential answers.
Author, Anne Mackie Morelli, is proud to announce the upcoming launch of her book "When Grief Descends: Suffering, Consolation, and The Book of Job". The launch will be taking place on June 23, 2020, when the book will be free for all to download.
In the book, Anne provides a thoroughly researched narrative to help people dealing with grief to overcome their challenges. It's a practical guide that combines the author's experience with the wisdom of the book of Job and the love of God through his promises in the bible.
To learn more, please visit here.
Like many people in the world today, Anne Mackie Morelli has gone through tough challenges in her life. From her young age as a professional athlete and creative person, she achieved success in almost everything she put her heart to accomplish.
However, in the latter part of her life, she had to face significant challenges. She grieved the loss of her father who suffered from Alzheimer's disease. She also lost a sister-in-law and close friends to cancer, while her youngest son also struggled wit friends to cancer, while her last son also struggled with Crohn's disease.
Anne also dealt with her health issues, including back pain and Fibromyalgia. While going through all of these, she remembers how the book of Job in the bible was instrumental in helping her keep her head above water.
Her purpose in writing this book is to enlighten other people going through such difficult challenges to find sustenance in this interpretation of the book of Job and the word of God. Readers will learn about dealing with the issue of loss and grief, acquiring essential communication skills, and mastering the practical strategies that are essential for consolation. The author also shares her journey of suffering, faith, counseling background, and teaches others to overcome their grief and get inner peace and comfort.
For more information, please contact 6025921141 or visit https://thestonescall.com/about-anne/.
Media Contact
Company Name: As You Wish Publishing
Contact Person: Kyra Schaefer
Email: Send Email
Country: United States
Website: https://www.amazon.com/When-Grief-Descends-Suffering-Consolation-ebook/dp/B089VKVD1K/