Women Win Author & Business Summit II sets the Virtual World on Fire with Powerhouse Speakers, Award-Winning Singers, and Civic Leaders from across the Globe
Hosted by trailblazing Best-Selling Publisher ~ Jesus, Coffee, and Prayer Christian Publishing House LLC., this EPIC 5-night Summit event featured Women of Faith, Glow-Getters, Best-Selling Authors, Celebrity Civic leaders, and Business experts alike!
Each night (May 30th– June 3rd) the CEO & Founder: Min. Nakita Davis and her lovely Celebrity Red Carpet Co-Host Angela Foxworth and reigning Ms. Georgia 2020 US Majesty, set the tone by inspiring, encouraging, and engaging, with their expert guests and audience members.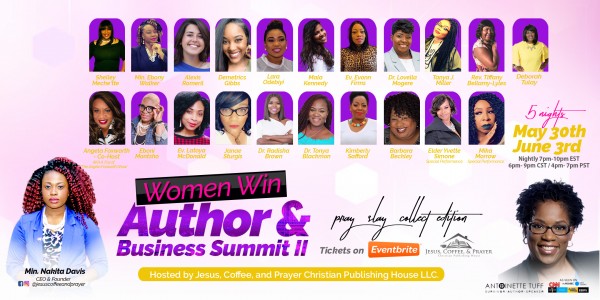 Women were motivated to DREAM BIG, birth their book, Start their business, and SOAR in Jesus Christ…even during the Pandemic.
In solidarity with the state of the world, the Women Win Author & Business Summit pivoted gears on Tuesday June 2nd, when they kicked off with 8 minutes and 46 seconds of silence. Representing the time that George Floyd was held down with a knee on his neck. All speakers on this special night wore Black representing #blackouttuesday.
Min. Nakita Davis believes that her platform is bigger than herself as an individual. As an influential leader, she uses her international platform to spark much-needed conversation around racism and equality in the black community.
As a wife to a Black man and the mother to a Black son; she feels obligated to speak her peace to improve social justice for the African American community. She is quoted saying, "I love everyone but let's be Clear, #Black Lives Matter."
Powerhouse Speakers Keynote/Workshop Speakers included:
Min. Nakita Davis – Visionary/ CEO & Event Host
Angela Foxworth – Red Carpet Co-Host
Ev. Latoya McDonald, Shelley Mech'tte, Min. Ebony Walker, Alexis Romeril, Demetrics Gibbs, Mala Kennedy, Ev. Evonn Firms, Tanya J. Miller, Rev. Tiffany Bellamy – Lyles, Deborah Tulay, Eboni Montsho, Janae Sturgis, Dr. Radisha Brown, Dr. Tonya Blackmon, Kimberly Safford and Our Keynote Speaker and Special Guest: Antoinette Tuff (Inspired Lifetime Movie – Faith Under Fire/ CNN Hero)
Special Performances by:
Gospel Explosion Mika Morrow (New song: SHOWTIME) & Inspirational Glow-Getter Yvette Simone (New song: Wont He Do IT)
SWAGHer Sponsors and Vendors: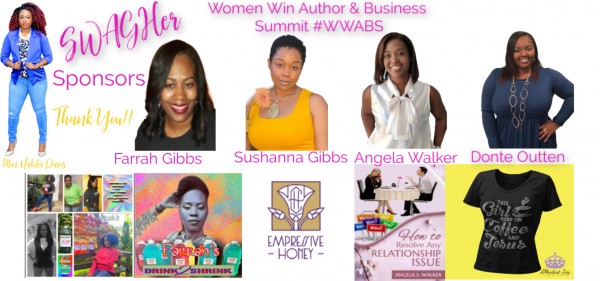 DModest Joy Custom and Clothing LLC. by: Donte Outten
Expert Relationship Coach & Author: Angela S. Walker
Drink 2 Shrink by: Farrah Gibbs
Empressive Honey by: Sushanna Gibbs
After an unforgettable 5 nights, magnifying God & challenging Women to Soar~ the Publisher of Purpose had one more surprise up her sleeve!
The overwhelming positive feedback from aspiring speakers and audience members ignited a Women Win: AFTER DARK! One Night Only Pop Up virtual event.
On Friday, June 5th Women locked arms under the sound of influential leaders across the country to learn exactly what it takes for Women to Pivot and Win in this season. Queens let down their hair, spoke their candid truth and challenged Women THRIVE.
Missed the event?
Catch the replay here! https://payhip.com/b/JZGO
Esteemed Women Win: After DARK! Panelists included:
Min. Nakita Davis – Visionary/CEO & Event Host
Angela Foxworth AKA A. Fox
Angela S. Walker
Natalie Bryan
Eboni Montsho
Sheraton Gatlin
TeKeisha Wade
Shemika Mitchell
Please note: Antoinette was unable to attend Women Win: After Dark!
Media Contact
Company Name: Jesus, Coffee, and Prayer Christian Publishing House LLC
Contact Person: Min. Nakita Davis, CEO & Founder
Email: Send Email
Phone: (1) 833.333.0733
Country: United States
Website: https://linktr.ee/womenwin