Innovative 3D printing solution, Creality CR-6 Modular Printer, launched on Kickstarter to offer truly intelligent leveling-free features for superior accuracy while keeping price affordability in line with consumer expectations
Shenzhen – New customizable and easy-to-maintain 3D Printer featuring a simple and robust aluminum-built modular structure has been launched on Kickstarter. The printer is designed to allow users to easily change modular parts that need to be replaced in order to ensure that printing is not compromised or interrupted. The innovative 3D printing solution also offers intelligent leveling-free technology for superior accuracy, ultimately solving all the shortcomings of conventional 3D printing devices.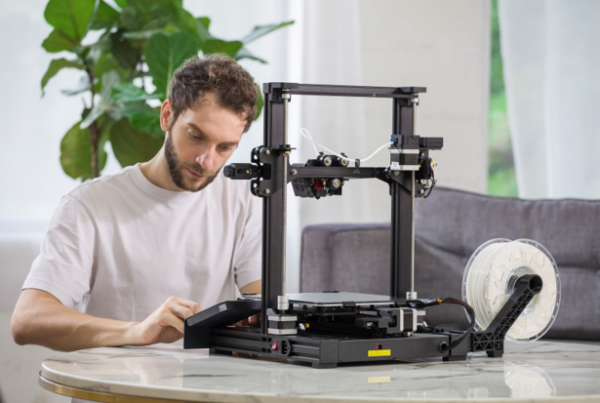 "This is a very easy-to-use 3D printer," stated Michael Tang, 3D printing expert and co-founder of Creality. "With a 4.3in HD Color LCD Touch Screen that allows users to intuitively operate the device through a smart interface supporting English and Chinese, the CR-6 SE is designed for both pros and newbies to enjoy a great user experience," Michael continued.
Users are not required to have any special skill, and the printer can be assembled in 10 minutes, being a plug and play device that is ready to use once it's out of the box.
Some features of the Creality CR-6 SE Modular 3D Printer include a lighter extruder that generates faster, quieter and smoother prints, a silent chipset to ensure voltage control, smooth movement and silent printing, and a glass hotbed platform that offers an excellent thermal performance to provide quick heating up, strong adhesion and easy to remove prints.
"Furthermore, its design is beautiful, and it comes with a special handle that allows a user to easily carry it since it only weighs 9.2kgs, which means that this is a 3D printer that is not permanently glued to your desktop. You can use it almost anywhere," Louis Tang, Manager of RD Department assured.
Other attributes that make this device a promising Kickstarter story are its dual Z-axises matched with a timing belt to reduce unwanted motion and improve results, a Photoelectric Filament Sensor to automatically stop printing if the printer runs out of filament or if it simply breaks, and automatically resume it once filament feeds in or once the power supply is re-established. "This is one of its smart features since it basically brings print failure issues down to zero," the developer of the device said.
The CR-6 SE Modular 3D Printer fundraising campaign on Kickstarter will help to fund the large-scale production of the device which will be offered early and for a special price to the backers who support the campaign.
For more information about the CR-6 SE Modular 3D Printer and other innovative solutions from Creality 3D, please visit – www.creality.com.
About Creality 3D
Based in Shenzhen, China, Creality 3D is a leading 3D printing manufacturer and innovator with a particular commitment to bringing to market the most advanced and powerful 3D printers. The company is a pioneer in the R&D and mass production of FDM and DLP 3D printers in China.
Media Contact
Company Name: Creality
Contact Person: Michael Tang
Email: Send Email
Country: China
Website: creality3dofficial.com