#1 International Best-Selling collaborative book: 'Women Win: Against All Odds' Sparks real fireworks this summer
2x International Best-Selling Author, Inspirational Speaker, Marketing Guru, and Queen Connector, Min. Nakita Davis, CEO of Jesus, Coffee, and Prayer Christian Publishing House LLC. partnered with 16 other dynamic Powerhouse Women from around the globe to produce: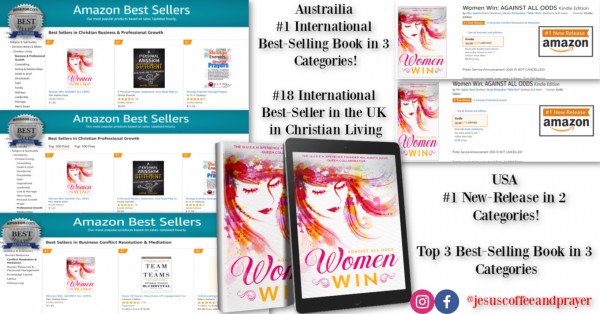 The anthology, Women Win: AGAINST ALL ODDS. 17 Trailblazer Queens from around the world lovingly share wisdom, insight, and the precise keys needed to succeed in any season:
The women who locked arms to pull off a clean sweep #1 International best-selling status for all three categories in Australia, are no amateurs when It comes to winning! In the book, each Queen Co-author shares tips, strategy, and their individual journey to success in business and home life.
"Keeping the Faith and Trusting in Christ is the Secret Sauce to producing Win after Win. Despite popular belief, even when it rains, God still reigns. Every vision, every dream, every purpose, and every promise given by God SHALL COME TO PASS, even In this season," says CEO & Founder Min. Nakita Davis:
www.jesuscoffeeandprayer.com
Noted as the 'Atlanta Book Hit-Maker' by Sheen Magazine and nicknamed the Publisher of Purpose by its 35+ Best-Selling Queen Authors, Jesus, Coffee, and Prayer Christian Publishing House LLC., is a small but mighty publishing house taking its Queen Authors to the next level
Women Win Co-authors have been featured on New York Times, iHeart Radio, TMZ, Rolling Out Magazine, Sheen Magazine, Cosmo, People, CBS, ABC, FoxNews affiliates, TEDx Talk, and many other reputable outlets!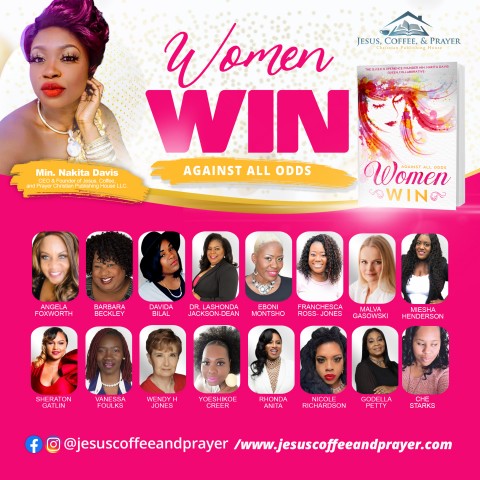 Meet the Royal Court & Queen Co-authors of this Trailblazing movement:
Min. Nakita Davis (Visionary/ CEO & Founder of Jesus, Coffee, and Prayer)
Dr. Lashonda Jackson-Dean
In addition to producing a total of 17 #1 International Best-selling Authors this past 4th of July, Jesus, Coffee, and Prayer honored 29 OUTSTANDING Women Business Leaders who are taking EPIC strides to level-up in this season.
At this rate, these honored and featured Queens will soon be household names, as they pave the way for their businesses and those around them to thrive and flourish. "If you are not connected to these Queens, you need to be," declares Min. Nakita Davis.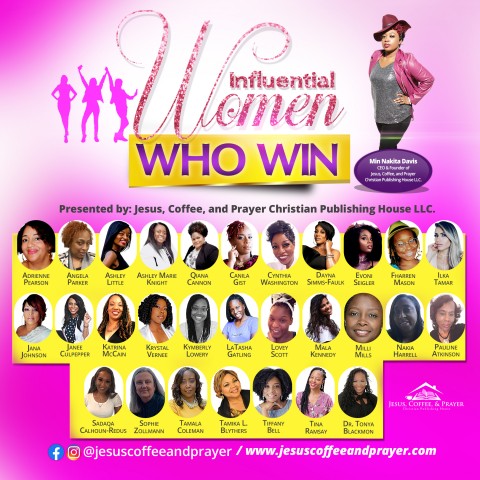 Meet the Inaugural Influential Women Who Win:
Dr. Tonya Blackmon
Ilka Tamar
Tina Jacobs Ramsay
Ashley Little
Mala Kennedy
Dayna Marie
Janee' Culpepper
Cynthia D. Washington
Fharren Mason
Krystal Watson Pillow
Tamala Coleman
Pauline Atkinson
Lovey Scott
Adrienne Pearson
Mildred Gilliam
Canila Gist
Sadaqa Calhoun-Redus
Kymberly Nicole
Evoni Seigler
Jana Johnson
Tamika Blythers
Ashley Marie Knight
Qiana Cannon
Katrina McCain
Angela Parker
LaTasha Gatling
Tiffany Bell
Nakia Harrell
Sophie Zollmann
*Each Successful business owners contact information, bio, and 1 successful tip is shared inside the Women Win: AGAINST ALL ODDS anthology*
Interested in joining this trailblazing team as a Future Best-Selling Author or Stepping on Stage at the Next International Virtual Summit?
Queens can stay in the know by following on Facebook & Instagram @jesuscoffeeandprayer or emailing the Powerhouse Publisher: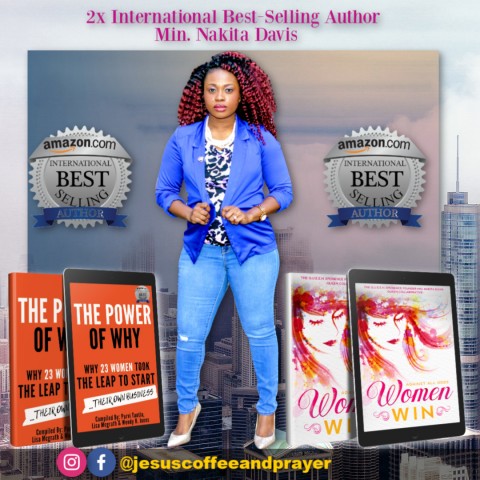 Media Contact
Company Name: Jesus Coffee and Prayer Christian Publishing House LLC
Contact Person: Min. Nakita Davis
Email: Send Email
Phone: 1.833.333.0733
Country: United States
Website: linktr.ee/womenwin