Get Triumph over Tragedy with Ayanna Mills Gallow's New Book: "Free From Silence: 12 Success Stories of Overcoming Secrets, Sadness, and Shame"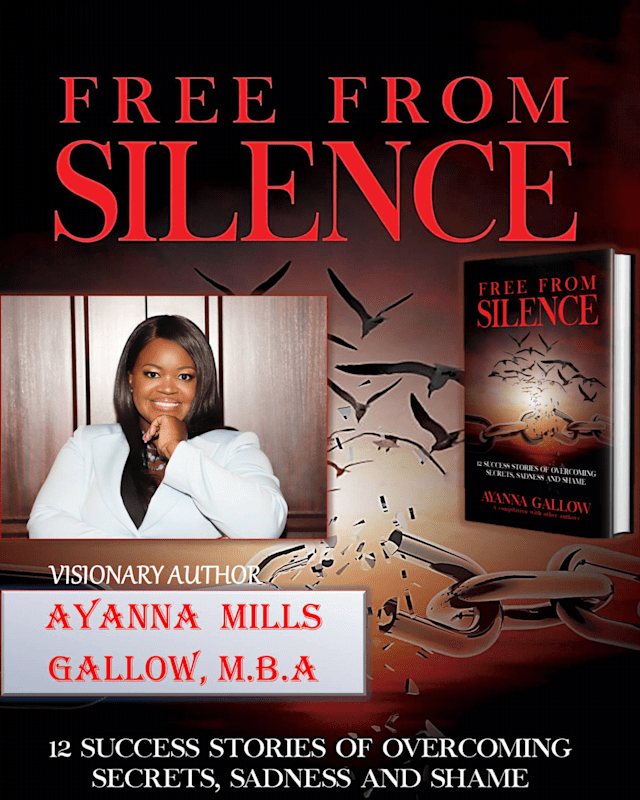 American Evangelist and International #1 Best Selling Author, Ayanna Mills Gallow, has announced the launch of her book: "Free From Silence: 12 Success Stories of Overcoming Secrets, Sadness, and Shame".
The book is an anthology co-authored by other gifted writers such as Amika Reynolds, M.D., Dr. Adrienne Michelle Horn, Brian E. Lewis, Pastor Cassandra Brown, Chanel Rose Budd, Cylia Williams-Staton, D. Arlando Fortune, Dr. Janell Jones, Kisha L. Clarke, Larsche Reaves, and Sharita Davis.
The book gives its readers the tips and tools used by the authors who are successful Doctoral students, Doctors, Educators, Life Coaches, Ministers, and Professionals. The authors reveal their secrets, sadness, and shame so that readers can succeed and be Free From Silence.
Speaking about the book, Ayanna Gallow said: "What if I told you children from broken homes become the most successful adults? This is hard to believe because social media portrays perfect people who prosper. However, this book proves that imperfect people triumph over tragedy".
The book comprises 12 non-fiction transformational stories that will give the youth preventive measures, solutions for women's struggles, and principals for personal development and growth. According to Ayanna Gallow: "If you are afraid to ask, "How do I go on?" or "How will I make it through the storm," then this book is for you."
The authors break their silence on going through social vices such as abuse, addiction, death, debt, depression, divorce, dysfunction, dyslexia, incarceration, and sickness. The authors give a transparent view of the causes and effects of their past problems and how they bounced back to become successful.
Ayanna Mills Gallow overcame silence from childhood trauma and found her voice becoming a best-selling author. It is her goal to help people avoid living in shame so that they will not suffer in silence. She believes that transparency is the key to eliminate guilt and shame because it fosters peace and freedom.
Free From Silence was inspired by the visionary author's best-selling devotional, God & Hip Hop, a 21-day biblical devotional inspired by Hip Hop. The visionary author received several testimonials about how God & Hip Hop helped others as a result of her personal transformation. Therefore, she compiled a novel based on 12 transformational stories to help even more people.
The book was forwarded by Kevin T. Robertson (KTR)
Media Contact
Company Name: Thanx A Mills, LLC
Contact Person: Ayanna Mills Gallow
Email: Send Email
Phone: (770)530-8257
Country: United States
Website: bit.ly/FreeFromSilence1