Smart Glass reduces transmission of COVID-19 in medical facilities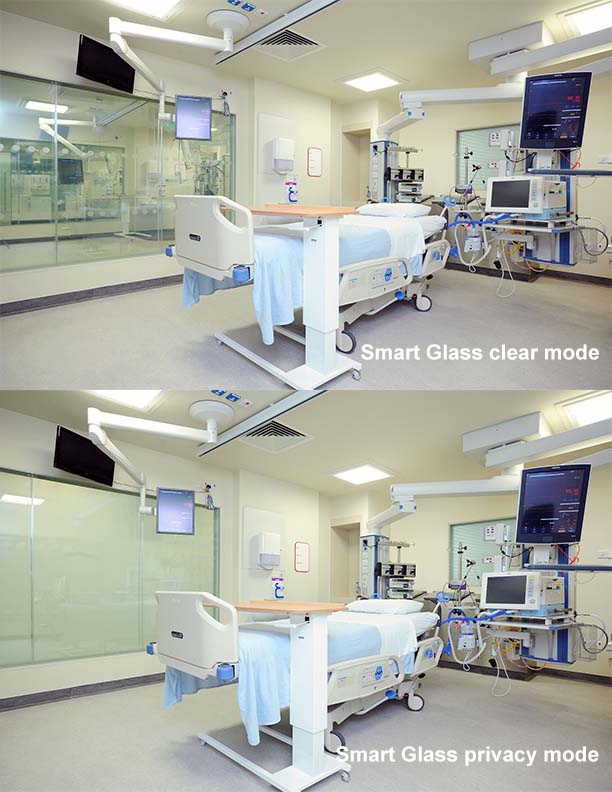 Miami, FL – July 21, 2020 – You've disinfected the exam room bed, the chairs, the door handles and the light switches. Your doctors and nurses wash their hands thoroughly between patients and use masks and shields to prevent the transmission of COVID-19. But one surface is hiding a secret. It's hard to sanitize, can hold on to the coronavirus for hours and doesn't get disinfected or changed between patients. Hospital and clinic privacy curtains are there to make patients feel comfortable, but they may be the one weakness in their cleaning protocols. They leave staff and patients vulnerable to contagion. One company has come up with an innovative technological solution designed to replace the use of privacy curtains with an easy to clean, versatile, non-porous surface.
Smart glass is a hard, non-porous, easy to clean and cost-effective solution to fabric privacy curtains. Smart Glass converts the glass surfaces in healthcare facilities, residential and commercial spaces into on-demand privacy glass at the flick of a switch. The glass is extremely cost effective to run and consumes less than 5 watts per square meter when transparent and 0 watts when opaque. It's non-porous surface also blocks 98% of harmful UV rays and 95% infrared radiation.
"COVID-19 can spread so easily," explains William Vasile Turcan, founder of Smart Glass Technologies. "An alarming recent study published by researchers at Imperial College London showed that viral DNA left on a hospital bed rail in an isolation room, which are easier to clean than privacy curtains and generally get cleaned more often than them as well, had spread to 18 other surfaces within ten hours, including door handles, chairs in a waiting room and children's toys and books in a play area. Although they used a virus that infects plants rather than humans as a surrogate for COVID-19, it shows just how far a virus in a droplet of liquid can spread.
The costs of operating a medical facility during COVID-19 have increased dramatically. The increased use of disinfectants, higher labour costs and the costs of PPE for staff have all been contributing factors. Privacy curtains, which require time to remove and replace, as well as requiring special laundering procedures, have a major impact on operating expenses. Smart glass installation reduces long term labour, maintenance and laundering costs while increasing productivity and most importantly, minimalizing the chances of infection.
Smart glass is made in a state-of-the-art North American manufacturing facility using German-made transformers. The added 0.4mm of durable PDLC film strengthens the glass without ever compromising the view.
For more information on smart glass and how it can help your medical or commercial facilities to reduce the spread of COVID-19, please visit www.sgtglobal.co
For more information, or to arrange an interview, please contact below.

Media Contact
Company Name: Smart Glass Technologies
Contact Person: William Vasile Turcan
Email: Send Email
Phone: 1 (786) 472 6712
Country: Canada
Website: www.sgtglobal.co