Trey Wonder set to release another masterpiece in "Treat it like it's new"
Multifaceted entertainer and punk rock artist, Trey Wonder, drops a new single titled "Treat it like it's new" as he continues to disrupt the music industry
"Treat it like it's new" is the latest project from Trey Wonder as he looks to bless the ears of music lovers, especially punk rock enthusiasts with another amazing song that will be officially released on October 10th, 2020. The song is a follow up to his recent project, an album titled "Can't Wait," which has continued to receive accolades worldwide.
Trey Wonder is not resting on his oars of creating amazing songs and practically disrupting the music industry. His seemingly rise to prominence is not surprising considering the abundance of talent he offers to the entertainment world. While several stakeholders, including music producers, record labels, and artists have brought their ingenuity and creativity to bear by ensuring that music lovers get the best of entertainment, Trey Wonder seems poised to challenge the status quo and literally set the records straight in the competitive multi-billion-dollar music industry.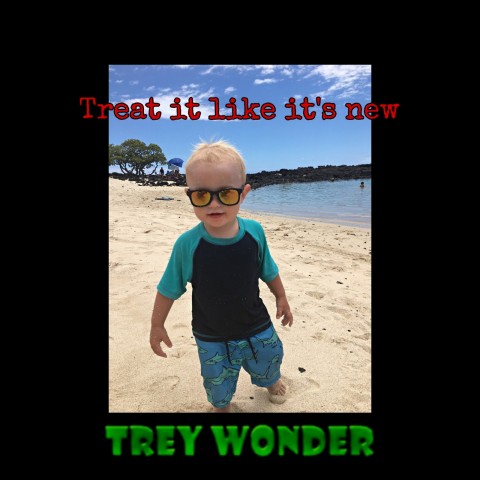 Trey's latest project that offers a fantastic dose of over 3 minutes of pure entertainment is a further reiteration of the talented punk rock artist's commitment to making entertaining yet thought-provoking music. Born Trey Hatcher, the versatile singer and songwriter made the headlines in 2017 following the launch of his record label, Trey Wonder Productions, and the subsequent release of three full-length albums and ten music videos.
The multifaceted punk artist has music in his DNA, as he found solace in listening to songs and writing lyrics, with a series of heartbreaking events further strengthening his love for the craft. His desire to use his talent as a tool for communication and changing the world can be felt in each sound he drops, as he pours out his heart and soul into every line until the beat stops.
Trey looks to follow up with the successes recorded with his latest album, which has gone on to reach more than 500k streams on Spotify as he releases "Treat it like it's new" on October 10th, 2020. The song will further show the world the stuff Trey Wonder is made of, as his popularity as a voice in alternative/punk music continues to increase. He currently has more than 1.4 million streams on Spotify and other digital music distribution platforms as a verified artist.
For more information about Trey Wonder and the works from the talented punk rock music artist on the big island of Hawaii, please visit – https://treywonder.com. His works can also be found across several social media platforms, including Instagram and YouTube.
Media Contact
Company Name: Trey Wonder Productions
Contact Person: Charles Hatcher
Email: Send Email
Phone: (650) 557-0084
Country: United States
Website: https://treywonder.com/