Global Gait Trainers Market to Thrive on the back of Rising Prevalence of Strokes and Spinal Disorders – Future Market Insights
Expansion of Consumer Base through Product Differentiation to be Key Strategy of Gait Trainer Market Players
According to a new market study by Future Market Insights (FMI), the global gait trainer market is projected to behold remarkable growth in terms of value between 2018 and 2028.
The report attributes the growth of the market to the rising incidence of strokes among adults coupled with increasing demand among the pediatric population. Furthermore, the rising prevalence of Parkinson's disease, cerebral palsy, and spinal injuries year-on-year will continue to drive the demand for gait trainers.
Along similar lines, there have been significant advancements on the technological front, which have facilitated the development of novel walking aids. On these lines, advancements such as the development of gait trainers that integrate exoskeleton with robotic assistive technology will fuel sales in the forthcoming years.
According to the World Bank, nations in Europe and Asia Pacific are witnessing a growth in Foreign Direct Investment (FDI), which is aiding in the development of the healthcare sector. Likewise, increasing government initiatives to ensure the availability of medical aids, including gait trainers, across hospitals and rehabilitation centers will proliferate the sales in the years to come.
"Manufacturers are concentrating on developing economies to capitalize on the growing number of rehabilitation centers, large patient pool, and an increasing number of efforts and initiatives to improve gait training therapy in the region," opines FMI analyst.
Download a Sample Report with Table of Contents and Figures: https://www.futuremarketinsights.com/reports/sample/rep-gb-2213
Gait Trainers Market – Key Takeaways
The global gait trainers market was valued at US$ 271 Mn in 2018 and is projected to grow at a CAGR of 4.9% through the forecast period.
By product type, exoskeletons and gait trainer walkers are expected to collectively account for a prominent share owing to the availability of numerous variants spanning across a wide price range.
On the basis of end-use, the home care settings segment is expected to emerge as a lucrative end-use as consumers opt for homecare to avoid high hospital spending.
Gait Trainers Market – Key Trends
The increasing number of government initiatives, especially in developing nations such as India, Malaysia, Indonesia, and Mexico, is expected to give a boost to market growth.
The development of advanced gait trainer systems that integrate products with software and offer high controller efficiency is expected to gain remarkable traction in the years to come.
Gait Trainers Market – Regional Analysis
North America is forecasted to remain at the forefront of market growth on the back of high spending on medical aids in the US coupled with surging number of spinal fractures.
The Asia Pacific is projected to emerge as a prominent regional market on the back of rising geriatric population and increased expenditure on healthcare development.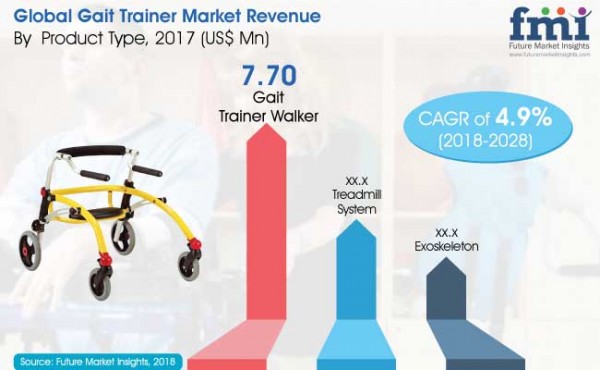 Gait Trainers Market – Competitive Landscape
Key players operating in the gain trainers market include, but not limited to, Otto Bock Inc., Ekso Bionics, Rex Bionics Ltd., ReWalk Robotics, and medical Medizintechnik GmbH. Market players have identified the high pricing of the products as a major obstacle and are focusing on developing products at a lower cost to enhance their revenue prospects.
For information on the Research Approach used in the Report, Request [email protected] https://www.futuremarketinsights.com/ask-question/rep-gb-2213
Gait Trainers Market – Taxonomy
End User:
Hospitals
Rehabilitation Center
Homecare Setting
Product Type:
Gait Trainer Walker
Adult
Pediatric
Treadmill System
Exoskeleton
Region:
North America
Latin America
Western Europe
Eastern Europe
SEA and Other Pacific
China
India
Japan
MEA
For any Queries Linked with the Report, Ask an [email protected] https://www.futuremarketinsights.com/ask-question/rep-gb-2213
Get Valuable Insights into Gait Trainer Market
Future Market Insights, in its new offering, provides an unbiased analysis of the global gait trainer market, presenting historical demand data and forecast statistics for the period from 2018-2028. The study divulges compelling insights on the gait trainer market, allowing readers to glean qualitative and quantitative information which will enable them to make informed market decisions in the upcoming forecast period.
Table Of Content
1. Executive Summary
1.1. Market Overview
1.2. Market Analysis
1.3. FMI Analysis and Recommendations
1.4. Wheel of Fortune
2. Market Introduction
2.1. Market Taxonomy
2.2. Market Definition
3. Gait Trainer Market Analysis
3.1. Global Economic Outlook
3.2. Pricing Analysis
3.2.1. Pricing Assumptions
3.2.2. Price Projections Per Country
3.3. Market Overview
3.3.1. Value Chain
3.3.2. Profitability Margins
3.3.3. List of Active Participants
3.3.3.1. Component Suppliers
3.3.3.2. Integrators
3.3.3.3. Manufacturers
3.3.3.4. Distributors / Retailers
4. Market Background
4.1. Macro-Economic Factors
4.2. Opportunity Analysis
4.3. Market Dynamics
4.3.1. Drivers
4.3.1.1. Supply Side
4.3.1.2. Demand Side
4.3.2. Restraints
4.4. Regulatory Scenario
4.5. Adoption & Installed Base Scenario
4.6. Reimbursement Scenario
4.7. Analysis on Standers In North America
4.8. Key Merger and Acquisition
5. North America Gait Trainer Market Analysis 2013–2017 and Forecast 2018–2028
5.1. Market Share Analysis (2017) for Top 3 Players, By Region
5.2. Pricing Analysis
5.3. Key Market Participants – Intensity Mapping
6. U.S. Gait Trainer Market Analysis 2013–2017 and Forecast 2018–2028
6.1. Introduction
6.3. Historical Market Size (US$ Mn) and Volume (Units) Trend Analysis By Product Type, 2013-2017
6.3.1. Gait Trainer Walker
6.3.1.1. Adult
6.3.1.2. Pediatric
6.3.2. Exoskeleton
6.3.3. Treadmill System
6.4. Market Size (US$ Mn) and Volume (Units) Forecast By Product Type, 2018-2028
6.5. Historical Market Size (US$ Mn) Trend Analysis By End User, 2013-2017
6.5.1. Hospitals
6.5.2. Rehabilitation Centers
6.5.3. Home Care Settings
6.6. Market Size (US$ Mn) Forecast By End User, 2018-2028
6.7. Drivers and Restraints: Impact Analysis
6.8. Market Attractiveness Analysis
6.8.1. By Product Type
6.8.2. By End User
Download Complete TOC Of this Report @ https://www.futuremarketinsights.com/toc/rep-gb-2213
Media Contact
Company Name: Future Market Insights
Contact Person: Abhishek Budholiya
Email: Send Email
Phone: +442076928790
Address:3rd Floor, 207 Regent Street
City: London
Country: United Kingdom
Website: https://www.futuremarketinsights.com/reports/gait-trainer-market