YC WATERJET is a professional manufacturer of waterjet cutting machine

The CNC high-pressure waterjet cutting machine is a new cold cutting technology in the world, and it has an unparalleled advantage in the field of material cutting. Its unique cold cutting process and cutting function suitable for any texture material. With the needs of new manufacturing industries and the rapid development of new material applications, it has been adopted by many industries. Waterjet cutting machines are widely used in architectural ceramics, stone, glass, metal processing, rubber and plastics industry, automotive, aerospace, military, petrochemical, and various special processing industries. In addition, it is widely seen in the processing of plastic, man-made fiber cloth, paper, composite, and food…
As one of the world's professional manufacturers of waterjet cutting machines, YC provides hundreds of customers with various waterjet cutting solutions. For different customers in different industries, we will provide different solutions, waterjet cutting machines can be tailored based on individual needs.YC Industry was established in 1999, located on the shore of Taihu Lake, an economically developed industrial town-Yangshan Town, Huishan District, Wuxi City. The factory has complete and supporting processing equipments. The existing plant area is more than 4,000 square meters, and the office area is more than 1,000 square meters.YC has many technicians with more than 15 years of experience in the field of water jet cutting. Main products are complete sets of waterjet cutting machines. They also produce welding equipment, laser, and plasma cutting machines.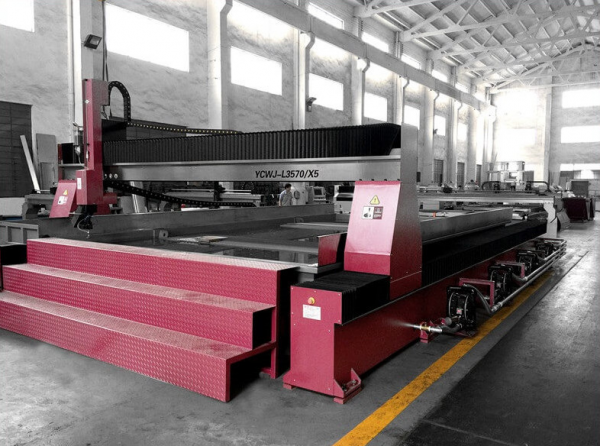 YC has designed and manufactured ultra-high-pressure waterjet cutting machines over the past decade, and they continue to innovate and develop advanced products and enhanced production techniques. They believe that producing high-quality products is the basic business concept and everlasting goal. YC WATERJET is very professional and outstanding in this field because of the smooth cutting process and the precise controlling technology. It has cooperated with USA Hypertherm/Accustream since the year 2008. The core component of the high-pressure pump is imported from American Hypertherm. Electrical components are imported from the German Schneider. The main motor is imported from the German Siemens. Using all kinds of high-quality imported components can improve production efficiency, save a lot of maintenance costs, and extend the service life of vulnerable parts. Every year they have technical meetings with engineers from the USA, Absorb advanced technology, and ideas of the waterjet cutting industry. Their products are exported to more than 60 countries, United States, Britain, Russia, Canada, South Africa, Saudi Arabia, Australia, Southeast Asia, the Middle East, and so on.YC engineers will go to many different countries for installation and training every year.
Click https://www.ycwaterjet.com/ to get more information about the YC waterjet cutting machine or other products.
Media Contact
Company Name: YC Industry Co., Ltd.
Contact Person: Johnny Bian
Email: Send Email
Phone: +86-13921189961
Address:NO.3 Changfa Road Yangshan
City: Wuxi
State: Jiangsu
Country: China
Website: https://www.ycwaterjet.com/