Humorist Books Announces World Release of the Hilarious Holiday Illustrated Tale, "Santa's Brother Sandy Saves Christmas" by Mike Reiss With Illustrations by Jason Chatfield
NEW YORK, NY – Humorist Books announces world release of the hilarious holiday illustrated tale, "Santa's Brother Sandy Saves Christmas" by Mike Reiss with illustrations by Jason Chatfield.
Sandy was having the time of his life in Bali. He was living the care-free island life, surfing, and hanging out on the beach with his friends. He was so content that he had almost forgotten about Christmas. That is, until he got a call from someone he hadn't heard from in years…his big brother Santa Claus!
This hilarious holiday book tells the story of what happens when Santa's sleigh gets stuck in the wet sands of Bali and he has to call on his estranged, lazy, fun-loving little brother Sandy to save Christmas. With witty writing by Emmy® award-winning humor writer and longtime executive producer of "The Simpsons", Mike Reiss and delightful illustrations by New Yorker cartoonist Jason Chatfield, "Santa's Brother Sandy Saves Christmas" is sure to be a hit with everyone on your list!
Humorist Media CEO and Weekly Humorist Editor-in-Chief, Marty Dundics is excited to see "Santa's Brother Sandy Saves Christmas" hit bookshelves. "We're thrilled to be able to bring this funny and heartwarming holiday tale to readers everywhere. We hope it takes its rightful place next to other classic books read on Christmas Eve." Animated TV specials based on this book? Networks should line up! Pick up your copy today and get ready for a jolly good time!
"Santa's Brother Sandy Saves Christmas" is available worldwide through books stores, online retailers, and Humorist Media's Humorist.shop Get your copy today and start celebrating the holidays!
Get a copy of "Santa's Brother Sandy Saves Christmas" and make it a part of holiday traditions this year.
#SantasBrotherSandySavesChristmas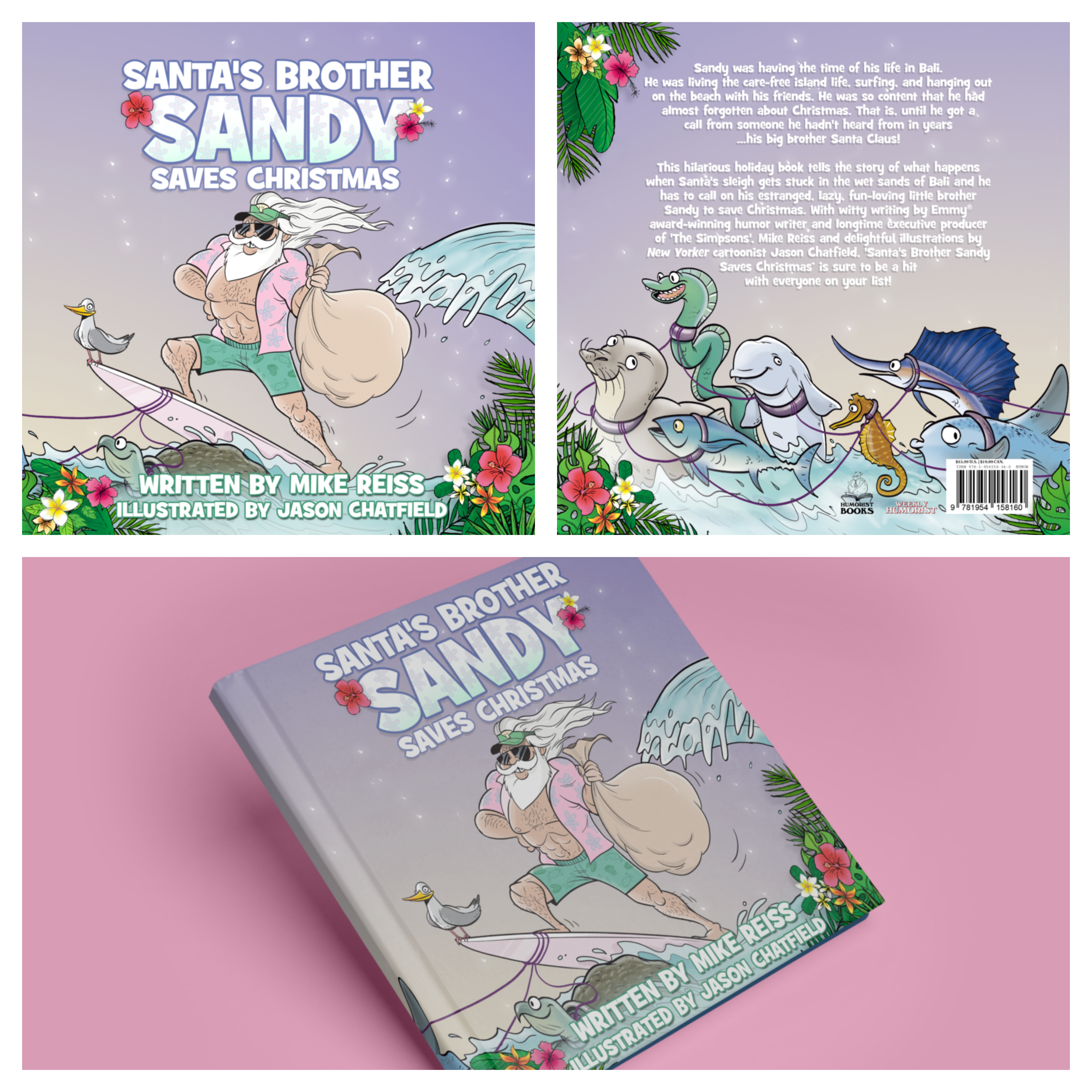 For more visit SantasBrotherSandySavesChristmas.com
ABOUT THE AUTHOR & ARTIST
Mike Reiss has won four Emmys and two Peabody Awards during his thirty years writing for "The Simpsons". He ran the show in Season 4, which Entertainment Weekly called "the greatest season of the greatest show in history." He's produced twenty-one children's books but no children.
Jason Chatfield is an Australian cartoonist and comedian based in New York City. He is Australia's most widely-syndicated cartoonist, producing the iconic 101 year-old comic strip Ginger Meggs which is syndicated daily in over 30 countries through Andrews McMeel Syndication. He is the current President of the National Cartoonists' Society (Est. 1946) and his cartoons appear regularly in The New Yorker, The Weekly Humorist, American Bystander, Wired, Esquire, Airmail, Variety and MAD Magazine along with other international publications. His illustration work has been published through Simon & Schuster, Harper Collins, Penguin Random House, Humorist Books and Scribe Media.
Humorist Media LLC is a comedy media company that publishes WEEKLY HUMORIST magazine, comedy podcasts- including TALKWARD (their flagship interview show), stand-up comedy showcase show GUARANTEED DELIVERY! as well as humor books and merchandise. They also develop streaming and traditional live action and animated scripted entertainment in addition to branded multi platform media.
Press inquiries: [email protected]
Media Contact
Company Name: Humorist Media LLC
Contact Person: Humorist Media
Email: Send Email
Country: United States
Website: http://santasbrothersandysaveschristmas.com/