Physician and Bestselling Author Releases Guide to Give Spouses the Keys to Marriage Success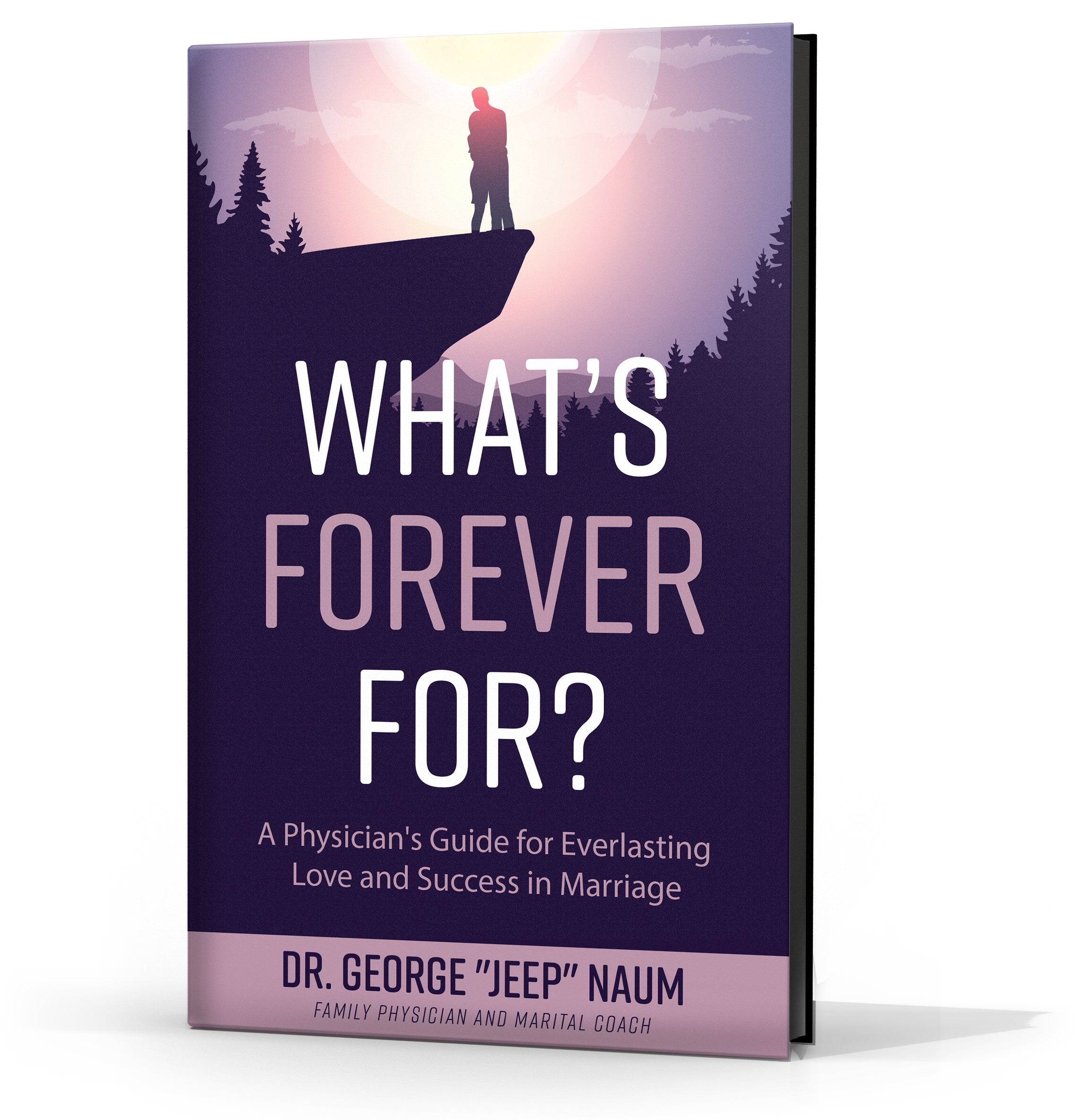 Millions of couples get married yearly, exchanging vows that include commitments of "for better or for worse" and "in sickness and in health." Yet, statistics show that more than 50 percent of marriages end in divorce. To teach couples, especially those in physician marriages, techniques to help them survive their most difficult times, Dr. George "Jeep" Naum has released What's Forever For? A Physician's Guide for Everlasting Love and Success in Marriage.
WHEELING, WV – February 5, 2021 – In What's Forever For? bestselling author, family physician, and marital coach, Dr. Jeep, shares the fictional stories of three generations of couples plagued with various challenges to deliver real and essential tools for surviving the storms of matrimony.
"Marriages are dis­carded too easily because it's simpler to quit rather than fight. Sadly, many couples who go down this road don't foresee the consequences… it is in essence, 'losing your mind' when spouses realize what they could've had if they'd tried harder," says Dr. Jeep.
The topics covered in What's Forever For? provide couples with insight into exactly why people get married, keys for open-mindedness and effective communication, tips on money management, revelation into issues commonly found in physician marriages, and much more. Following each chapter, couples are also given questions that allow them to engage in meaningful and thoughtful exercises and discussions. Written from the perspective of a marriage coach with over 25 years' experience, Dr. Jeep's words serve as a mirror that reflect to a couple what they are seeing and provide unbiased guidance to aid them in once again becoming best friends.
What's Forever For? dispenses tried and true strategies to show couples how to prevent problems in their marriages and resurrect their failing unions. "I have found in talking to many couples over the years that most don't have the basic tools to survive the many storms that can befall a couple during their married life. Without tools, even the strongest of marriages can hit the rocks with devastating results."
Dr. George "Jeep" Naum has always been passionate about helping, teaching, and educating others. He has served as a doctor for 30 years and as a coach for engaged and married couples for over 25 years. Dr. Jeep earned his bachelor of science in zoology at Marshall University, his doctor of osteopathic medicine at West Virginia School of Osteopathic Medicine, his family practice specialty degree at The Medical Center of Beaver, Pennsylvania, and his certification and fellowship at the American Academy of Family Physicians.
Published by Publish Your Gift, What's Forever For? A Physician's Guide for Everlasting Love and Success in Marriage, is now available for purchase on Amazon.com.
Media Contact
Company Name: Purposely Created Publishing Group
Contact Person: Shani McIlwain
Email: Send Email
Phone: (888) 949-6228
Country: United States
Website: www.publishyourgift.com