VacLife Pet Grooming Kit Launched on Kickstarter
All-in-one pet grooming kit offers pet families a full range of equipment, including an AC Vacuum Cleaner, an Electric Hose, Electric Clippers, Needle, Blade, and Massage Combs, and a Fur Brush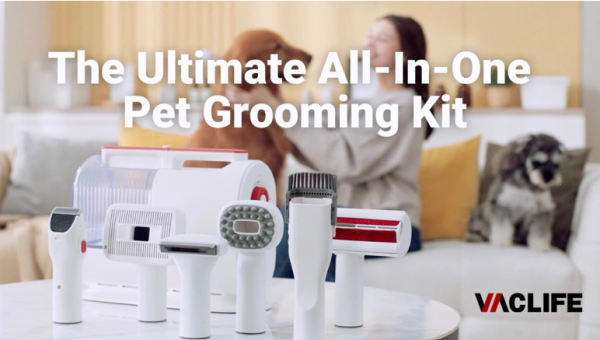 Kickstarter is today the launchpad for VacLife Pet Grooming Kit, at < https://www.kickstarter.com/projects/vaclife/vaclife-pet-grooming-kit?ref=c9in77 >. This is an all-in-one integrated pet grooming that allows pet families to have a device that covers all at-home pet grooming requirements, for dogs and cats, and that is designed to prevent the typical grooming hairy mess from happening. This grooming kit allows users to seamlessly trim and brush their pets' hair while collecting 99% of the hair in the vacuum container.
The device conveniently captures loose hair and dander as the users are grooming their pets. VacLife's Dog Brush is also equipped with a Quick Release Button that activates the self-cleaning function of the device's flat brush. The user simply pushes a button, and it self-cleans, sending the removed hair into the vacuum dustbin.
VacLife's Kit includes 3 Adjustable Suction Levels for different scenarios. The user can choose the 3kpa, 8kpa, or 12kpa suction level, and decide if low suction is required for simple trimming and de-shedding, or high suction for thorough deep cleaning.
VacLife All-In-One Pet Grooming Kit includes Multiple Accessories for Multiple Requirements:
Electric Clippers for bulk hair shaving
Needle, Blade, and Massage Combs for different combing contexts
A Fur Brush to brush and remove loose fur while keeping it contained and ready to be neatly put away
A Flat Nozzle Suction feature to ensure that every piece of hair is tidily sucked in
VacLife's AC Vacuum will also efficiently clean carpets and crevices
This is also a low noise device to reduce stress in pets while being groomed, and it has also added a detachable multi-functional hose that puts an end to the typical anxiety that pets suffer whenever cordless trimmers are used and go out of battery. The device also features 4 Comfortable Protective Combs to trim pet hair of different lengths, with an ease of switching between combs that further simplifies the operation. A Dual Airflow System for Optimal Hair Sucking is also part of the equation, to prevent trimmed and loose hair from flying around. This is a mess-proof product.
The device is also easy to carry, so that users can take it on vacation when traveling with their pets, this way enjoying the same benefits wherever they are vacationing with their furry friends. The VacLife Pet Grooming Kit campaign on Kickstarter at < https://www.kickstarter.com/projects/vaclife/vaclife-pet-grooming-kit?ref=c9in77 > is seeking to raise funds to build the large-scale production of the device, which will be offered early and for a special price to the backers who support the campaign.
About VacLife
VacLife specializes in innovating and designing high-performance vacuum cleaners and cleaning equipment — from cordless vacuum cleaners and handheld vacuum cleaners to pet vacuum cleaners and car vacuum cleaners. Our team is comprised of highly experienced product designers, engineers, and other seasoned creative professionals — and we work based on a customer-centric approach: all our products are of the highest quality, extremely reliable, and easy-to-use.
For more information, please visit < https://www.kickstarter.com/projects/vaclife/vaclife-pet-grooming-kit?ref=c9in77 > or contact VacLife, at [email protected]
Media Contact
Company Name: VacLife
Email: Send Email
Country: China
Website: https://www.kickstarter.com/projects/vaclife/vaclife-pet-grooming-kit?ref=c9in77