LexxPluss Announces Exhibition of Next-Gen Technology at the Automate 2023 Event in Detroit
The robotics start-up is set to display its latest brainchild at one of the largest automation showcases in North America
Leading robotic start-up, LexxPluss is pleased to announce its presence at Automate 2023 in Detroit, Michigan from the 22nd to the 25th of May 2023 at the Huntington Place Convention Center. Automate is the foremost platform for the showcase of cutting-edge automation, robotics, vision, and motion control technologies in North America, organized by the Association for Advancing Automation.
The Automate event has over the years been responsible for keeping stakeholders, manufacturers, distributors, and automation enthusiasts abreast of the latest developments and recent technologies designed for the future of industrial automation. The Automate 2023 edition is set to be bigger and larger, inviting start-ups and renowned companies with experience and expertise from around the world, while creating learning opportunities and facilitating global impact.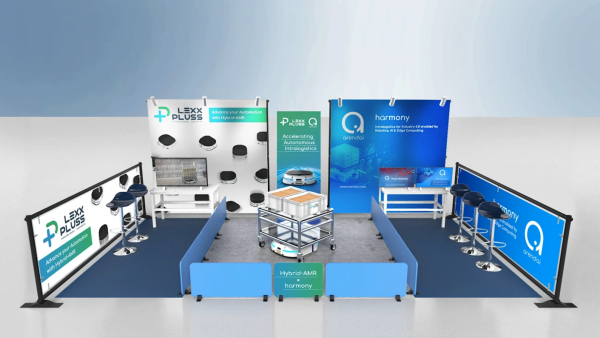 LexxPluss Inc. is a Japanese-based robotic technology start-up that positions itself for technological evolution by providing innovative automation solutions for the logistics and manufacturing industries. Following this, LexxPluss will be revealing its latest technology, the Hybrid-AMR, at the Automate 2023 event at booths 7013 and also do a live demonstration of at Booth #450 on May 23 and 25.
The Hybrid AMR has the capacity to transport over 1000 lbs. of goods with stop accuracy of less than ⅛ inch , ensuring efficiency and speed in the movement of substantial quantities of goods and easy navigation in the most confined environments. In addition, LexxPluss fleet management software "Konnectt" controls up to 50 AMRs and equipped with API which enables integration with other automation devices. At the Automate event, LexxPluss, alongside its newest partner, Arendia, will be displaying the Hybrid AMR technology while demonstrating to the attendees the integration of its technology with Arendai's Harmony Solution. Arendai will be present at booth 7014.
For more information, please visit www.lexxpluss.com/en or https://www.automateshow.com/exhibitors/lexxpluss-inc
LinkedIn: LexxPluss
YouTube: LexxPluss
About LexxPluss Inc.
LexxPluss Inc. is a robotics company that develops, manufactures, and distributes automatic transport technologies. The company is committed to building a sustainable society through sustainable innovation and to providing solutions that automate logistics and transport across the world.
Presently, the robotic technology start-up is advancing into new markets, beginning by launching its operations in the United States. LexxPluss is also open to collaboration as its astute initiative named the Open Partners program is designed to forge partnerships with interested industrial partners where details of upcoming innovation and knowledge of the field are freely discussed amongst partners at no cost. The program has already enlisted the support of over 20 companies and is set to facilitate the rapid expansion of AMR use in the market.
Media Contact
Company Name: LexxPluss Inc.
Contact Person: Brad Golovin
Email: Send Email
Phone: +1 2482775058
Country: United States
Website: www.lexxpluss.com