Manhattan Annulment Attorney Juan Luciano Sheds Light on Annulment Grounds in New York in Recent Article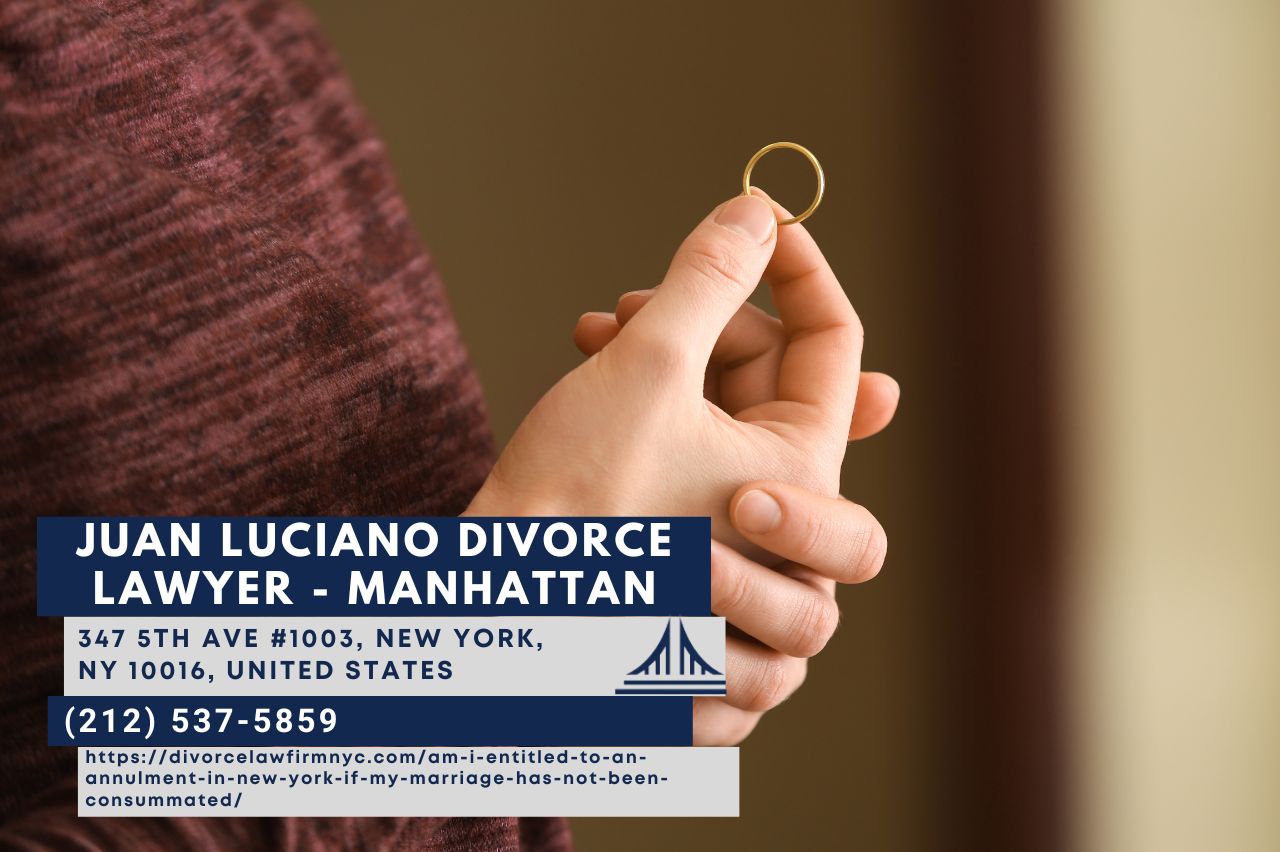 Esteemed Manhattan annulment attorney, Juan Luciano (https://divorcelawfirmnyc.com/am-i-entitled-to-an-annulment-in-new-york-if-my-marriage-has-not-been-consummated/), has authored a comprehensive piece on the nuances of annulment laws in New York, particularly focusing on the question 'Am I Entitled to an Annulment in New York if My Marriage Has Not Been Consummated?'
The Manhattan annulment attorney discusses the legal implications surrounding the non-consummation of a marriage, dispelling the common misconception that failure to consummate a marriage automatically qualifies it for annulment. The article also sets forth the legal requirements and grounds for obtaining an annulment in the state of New York.
"Under New York civil law, an individual may not obtain an annulment if the marriage was not consummated unless under very specific circumstances," states Manhattan annulment attorney Juan Luciano. His experience in this area is expected to provide valuable insights to individuals considering an annulment.
In the article, Luciano, who is a well-regarded Manhattan annulment attorney, goes beyond the topic of non-consummation to describe the two types of annulments available in New York: void and voidable marriages. He also outlines the five grounds for annulment in the state, which include underage marriage without parental consent, mental incapacity, incurable mental illness for a period of five years, consent obtained through coercion or fraud, and physical incapacity to consummate the marriage that was discovered after the marriage.
Luciano further clarifies the meaning of marriage consummation and its implications. He explains that, "The act of consummation within a marital framework specifically refers to the first instance of sexual intercourse between the couple after their wedding ceremony. It symbolizes the ultimate personal and emotional connection between the two parties, forming a deeper bond."
Despite the erasure of marriage through annulment, Luciano warns of the ongoing legal obligations and responsibilities that both parties may have towards each other and any children that may have been born during the marriage. He emphasizes the importance of understanding these responsibilities and the potential for court-imposed custody, support, and parenting time requirements.
In the wake of the many complexities surrounding annulment laws, Luciano's article is a beacon of information for those seeking to understand the intricacies of annulment in New York. He advises seeking the guidance of a skilled New York annulment attorney to understand the requirements for annulment as well as one's legal rights and responsibilities.
To wrap up, the article reiterates that even though marriage consummation is not required for a legal marriage in New York, its occurrence or non-occurrence can have significant legal implications. Luciano's commitment to family law and protecting the rights of his clients is evident in this extensive piece.
About Juan Luciano Divorce Lawyer:
Juan Luciano Divorce Lawyer is a distinguished law firm based in Manhattan, New York. The firm is led by Juan Luciano, an accomplished attorney with a strong commitment to family law. The firm's goal is to provide clear, concise, and reliable legal guidance to individuals navigating the complex world of annulments and divorces. With a team of dedicated professionals, the firm delivers personalized attention, robust representation, and comprehensive legal solutions to its clients.
Embeds:
Youtube Video: https://www.youtube.com/watch?v=5j90U7XItHM
GMB: https://www.google.com/maps?cid=4020903599192949720
Email and website
Email: [email protected]
Website: https://divorcelawfirmnyc.com/
Media Contact
Company Name: Juan Luciano Divorce Lawyer
Contact Person: Juan Luciano
Email: Send Email
Phone: (212) 537-5859
Address:347 5th Ave #1003
City: New York
State: New York 10016
Country: United States
Website: https://divorcelawfirmnyc.com/